Description
.dc-dock{position:absolute;width:35px;height:20px;background:url(data:image/png;base64,iVBORw0KGgoAAAANSUhEUgAAAHUAAAAoCAYAAADAFLWVAAAABHNCSVQICAgIfAhkiAAAAAlwSFlzAAALEgAACxIB0t1+/AAAABx0RVh0U29mdHdhcmUAQWRvYmUgRmlyZXdvcmtzIENTNui8sowAAAAWdEVYdENyZWF0aW9uIFRpbWUAMjAxMy42LjPM/S8QAAAMaklEQVR4nO2bb0wbZ57HvzPj8X88NtgYDNgEklCbhLJH7IRtIAlBTY+rc9e60i6l2ipoVyhZVafcnWJ3dWhPinaPvNncixPZ7krtRquI7QvSW5X2FNQSkmwrQpqGZompSZqAGwIGx2ODZ4wZbN+Lxjm6axsnMal0588rmN/zfH+P5zfPH8ZfiEQigTxPDkEQWbd1Op2bAfwtgO0ACgFIcjkWUS7F8mTG6XSSAH4M4EUA2T8Fj0i+qE+XHwOwpwqEw2H5/Pz8JoZhqHg8TkYiEV6v19+RSCTCoybJF/Up4XQ6tyNNQQGAJMkEQRDUwYMHSYIgEIlE5OfPnzdzHDddWFgYepRc5BOPNk+2HEp10efzacfHx2sXFhZqiouLycHBQczMzEAmk6GtrY00mUyb7t69a4zH41nXisgflHJDpoOS0+ncAuBXqWI8z0sjkUiN3W4nSJJELBaDx+PB3NwcjEYjqqurEQgEMDQ0tKJSqe4oFIrIemPJz9Snw750AYlEIvj9fn5gYAAejwccx8FisaClpQVyuRyffvopZmdncfDgQbFMJtvq8/l06yXL76lPB2uqiz6fT8txXOmOHTuoLVu2IBwOw+v1gud50DQNsViMmpoaSCQSBAIBlJaWEoIglE1PT8tMJpM3XbJ8UTcYp9NZAaAkVUwqlUZZlo0JgkARBIGioiIUFxc/jCcSCdy/fx8+nw9TU1PYvn07WlpaMDw8XLi8vOyTSqXRVLr5om48u9MFGIZZKigo+PLatWvPCIIgpigKJEmCpmlIJBKIxWLI5XLcvHkTe/bsQSgUwvj4OMLhMABI8kX97mjKFPT7/Rqr1Squr69/eI1lWXAcB7VajWvXrsFms2FychJFRUVQqVSIRCKgaTpt7fJF3UCcTmcNgIp08Xg8TiwtLanGx8djMzMzlEwmg0qlQnl5OfR6PTiOg0QiAc/zoCgKFRUVWFxcRFNTEy5cuFAAIJBKN1/UjeXvMwVJkkxUV1ff8Xg8W+rr6xVlZWWIxWKYmprC6uoqVlZW4PV6cePGDTgcDgCASqWCTCYDwzAaANMpdXP/OfIAgNPpLAfw/fXaRSIRyerqqoJlWYyMjOC9996DyWSC3+9HKBTCwsICdDodVCrVwz5DQ0Pgef5uOs38TN0Ajh07RgD4KQBqvbbRaFSiUqnmPR6PIAiCiOd5/ZkzZxI8zxMHDhxALBaD1WrF/Pw8BEFASUkJQqGQYDAY/Ok080XdAAiCcADYlk1btVq9qFarFwEgGo2KAdwXi8XCwsJC4eDgoAEAFQwG8cknn4CiqKBIJBJJJJKM74LzRc0xTqezFsBrj9NXIpGsJH8uLi6+LxaLV6ampqr9fj9IkgxVV1dPZaOTL2oOcTqdRQCcyGLZzYaCggKOIIjErVu3EjKZbN13vknyRc0RTqdTBMAFQJMrTYqi4iUlJTPxeJyUy+X5on4HHAbwTK5F9Xp92gNROh7JUrHR3po8T4wAYC6roj4tb02e3JDt8pvWWzMllDKj5D5bdYlCtJqgqHnfPPscPvq8kFrMeg/Ik1vWLep63hoRYgmCoqn/PlpFiUgCC0vlmp/8Trdn+qvzX3xPOjmb09HmyYp1j967d+92ASj6y+t/4p81/THcvINXP7v5eyYF+cexJRQpKdQapPjhTg3J0kbDu26pzEjd9YuIeN4z8xTJWNQH3ppXU3Yk4nHNpr+p/pOriviBlcHf1RXg4iSH3mEWUSGB17+vRnNdOXNqvLSM4ufvMxSX8ru/PLknY1F37979CoCaVDGaiMU/ulesvXAnIUskgEIFhZZnlDj4bAHuh2M4NcyCiybwi1fK6cuLlcbLUyurJnoumC5Xd3d3S1tbW21ra+vW1tbWrQ0NDXqGYXDz5s117ZE2m037xhtvtExOTt4NhULr+mRtNpv2tddea7Db7XWtra1bGxsby3U6HTkxMcGu1zcdRqNR/uabbx5YXFwMzMzM8I+rkwvW21NTemsu8fWVs9LtNT97pYRutzH4OiBg8AaH2VAQSgkJlYxCu42BRkFhYjaK57YoCG6lqfa/rmpU/6AY+iJdsitXrkz09/d/BQCHDx9uaG5uruN5XhgeHs7Z3rx3797SF154oWF6enr2xIkTlwCgo6PDbLVazVKpVHzmzJmJx9H1er28y+UayNU4n4S0Rc3krdGJ2LCHWxbC0ThNEsC2Mil2VMoexlfjCYzPRHHlTgQD15dwZF8hfvsjFY5QqJj/4trNYhG77pN86tSpq0ePHt21c+fOzcPDw7NqtZo+dOhQg16v1wIAy7IhpVIpHxsbu2W1Ws0AcOTIkZbe3t6hbdu2aRsbG800TdMA4PP5/Hq9XutyuQaamprMk5OT3rfffvt6MteDQk7YbDYtALS1tRnT9TcajXKHw1G3dhx9fX1Xk/nPnj07Mjo66l+rIQiCEAgEQkqlUn78+PGhnp6eF9c+wJ2dnXUMw8hPnjw5YrPZtPv27TNrNBoG+N8HXa1W011dXbs0Gg3DcRzf399/1e12p1zFMs3UtN6aZ8TT/ir63oVfffDSHi4al0tpEiISUEpJqGUUCqQkShkR3v0shP9sL8VXCyv49QUWX7MCyJhGmU1RAcDj8dxrbm6uSxZULBbTvb29Q16vlz969Oiu5E0/e/bsyMsvv7yrt7d3qKSkRN7c3FyXvBk2m01rt9sbAMBisTAKhUJ++/bthVT5RkdH/TabTZuuPwA4HI46sVhM9/T0nAOArq6uXa+//vqu06dPjyTb7N27tzSVxsrKSsatwWg0yu12e0MgEAi5XK4Bi8XCtLe37wKASCQiaDQapqen59z+/fuNlZWVTLqiZvqSPKO35vPlmrJ/fckk//eX9fi5XYc323Q4UKtERSGNHZUy/GF0ET+369A3GgK3EkeVToyFpRi4uOyR30IZDAa5Xq/XXr58+ZbX6+UB4OTJkyOCIPzVTWpoaDCxLBtKzoLR0VH/2NjYrWxzZepvsVgYvV6vff/9968Hg0EhGAwKJ06cuHT69OkRpVJJJzXMZrPhccZgtVpLaZqm33nnnasA4Ha7Q2NjY7fq6+s3j4+P+wVBELq6unZJpVLxhx9++GgW0fW8NUJCRN4WDMW/Oe8TLk5ytK5AhMoiGvvNSlgrZZgNrUKjIDEXWoVYROB5ixJ3/Cv4jx+U4KenynTAja/X+4AAUFJSouY4LmeHDrfbHeI4jjebzYZc7tNer5c3Go3ybNv/5WeSSCT02t9dLteBVDm6u7vPdXR0mKuqqko7OzvptVvIWtLN1IzeGppYjb+qGvwsEGDD/7i/CL/9kQH//LwWM0EBo3ciGJ9ZxqCbw6HfzaBtuxIAsEkrxvYyKaqqtxgyaSfp7Oys27p1q9Htdk+73e4Qy7KhnTt3bk7evLXL71omJibuaTQaxuFwVAPfnHTr6+s3J+Pnzp27bjKZSg8fPvxwSe3o6DD39PS82NnZWZepv9vtDvl8Pr/dbq9Tq9W0Wq2mnU5nU3d3d8vamXr16tXptRoWi4VZO4ZwOMxbLBaTWq2mLRYLYzAYtADw8ccfewVBEK5cuTLhcrkGent7hziO4ycnJ70dHR3m7u7ulg8++OCW3+8PMQyT9iH6q5marbfGt1qoiIgKNR5fFB9/yWHoSw4f/ZMJv77AIp5I4PPpCJ6vVWKTVgwAiCeArt/fw4Ln0p+3ylJrWq1Wc/LQw7Js6OLFi9eTy8xbb701cujQoYYjR460JOOplt/h4eFZuVx+vbGx8aFW8qADfLMUhsPhS3a7va6np+dF4JuZs/bgkql/f3//dYfDUZecTSzLhtbup8kcWq32oYYgCEI4HObFYjGd1Ghvb29YqwEAwWBQ6OvrG3kwNjMAJA91RqNRXl5ernW5XAcEQRD6+vq+lXMt33o5f+zYMYIgiF8iCyvGjWhV8R2hVKsiOT6SkEpmxeYtUlEi7luKk30/qcBLvV6M/KwKBICIEIdtkwzNv5xY3h/5/Ufraf9fxOFwVFssFtPx48eHNjrXt2bqo3hraiW352slt+cBwB9jZAQmvGpiafkyXVvx6m9WLQAlmpyLwtnvA83PzMlkMrFG8M4h650nz+PycKY+8Nb8AjmwYtyIVukGws/t/JcDWvxhyD3XoTr32ZNq5skeEZB7b81m8dcBEon4u5fvx3UUu5gLzTzZQz3w1vwbMvwJ86iIiHgiAWJFEfMHDbQ/qKOC3+m70P9viLBB3prd8i9S/ktAng1lGcD8/wCcx1YlT44gTAAAAABJRU5ErkJggg==) no-repeat top right}.cs-head{overflow:hidden;position:relative}.cs-head .title{margin:0;font-weight:400;font-size:14px;padding:5px 10px}.dc-cs:hover .dc-dock,.dc-dock:hover{width:117px;background-position:bottom right}.dc-cs{clear:both;max-width:100vw}.dock-rb{right:0;bottom:0}
.cs-top{
display: none;
}
.cs-bottom .cs-head .title,.cs-append .cs-head .title {
margin: 0;
font-weight: 400;
font-size: inherit;
}
.cs-bottom .cs-head .title:after,.cs-append .cs-head .title:after {
content: 'You may like';
color: #FFFFFF;
}
.cs-bottom .cs-list .title,.cs-append .cs-list .title{
color:#333333;
}
.cs-bottom .cs-list .expand,.cs-append .cs-list .expand{
display: inline;
}
@media (max-width:480px) {
.cs-bottom .cs-list>li:nth-child(n+7),.cs-append .cs-list>li:nth-child(n+7) {
display: none;
}
.cs-bottom{
display: block;
}
}
.cs-bottom .cs-head,.cs-append .cs-head {
background-color: #6b4c39;
}
@media (min-width: 640px) {
.cs-list-col7 .coupon, .cs-list-col8 .coupon, .cs-list-col9 .coupon, .cs-list-col10 .coupon {
display: none !important;
}
} .cs-list{margin:0 0 0 -20px;padding:0;background:#FFF}.cs-list:after,.cs-list:before{display:table;line-height:0;content:""}.cs-list:after{clear:both}.cs-list>li{float:left;width:16.66%;list-style:none;box-sizing:border-box;padding:10px 0 10px 20px;position:relative;margin:0}.cs-append,.cs-bottom{margin-top:10px}.cs-list-col6>li{width:16.66%}.cs-list-col7{margin-left:-18px}.cs-list-col7>li{width:14.28%;padding-left:18px}.cs-list-col8{margin-left:-16px}.cs-list-col8>li{width:12.5%;padding-left:16px}.cs-list-col9{margin-left:-15px}.cs-list-col9>li{width:11.11%;padding-left:15px}.cs-list-col10{margin-left:-14px}.cs-list-col10>li{width:10%;padding-left:14px}.cs-list-col11{margin-left:-12px}.cs-list-col11>li{width:9.09%;padding-left:12px}.cs-list-col12{margin-left:-10px}.cs-list-col12>li{width:8.33%;padding-left:10px}.cs-list-collapse .expand{display:none}.cs-list-collapse>li{padding:0}@media (max-width:800px){img{max-width:100%}.cs-list{margin-left:-20px}.cs-list>li{width:20%!important;padding-left:20px}}@media (max-width:640px){img{max-width:100%}.cs-list{margin-left:-18px}.cs-list>li{width:33.33%!important;padding-left:18px}}@media (max-width:480px){img{max-width:100%}.cs-list{margin-left:-15px}.cs-list>li{width:50%!important;padding-left:15px}}.cs-list .cover:after{display:block;content:";padding-top:100%;background-repeat:no-repeat;background-size:cover;background-position:center}.cs-list a{text-decoration:none}.cs-list a:hover .title{text-decoration:underline}.cs-list .title{color:#333;margin:5px 0}.cs-list .title:after{display:block;display:-webkit-box;-webkit-line-clamp:2;-webkit-box-orient:vertical;font-size:14px;line-height:1.4em;height:2.8em;overflow:hidden;white-space:normal;word-break:break-word;-webkit-hyphens:auto;-ms-hyphens:auto;hyphens:auto}.cs-list .plus{height:20px;overflow:hidden}.cs-list .price{color:#E50010}.cs-list .price:after{content:";font-size:14px}.cs-list .origin{margin-left:3px;font-size:12px;color:#AAA}.cs-list .origin:after{display:none;content:";text-decoration:line-through}.cs-list .coupon{display:none;width:60px;height:60px;border-radius:50%;background:rgba(224,13,12,.8);color:#FFF;position:absolute;top:10px;right:10px;text-align:center;padding-top:12px;box-sizing:border-box}.cs-list .coupon:before{content:";font-size:20px}.cs-list .coupon:after{content:'Off';font-size:12px;position:absolute;bottom:8px;right:12px}.dc-cs *{text-align:left}.cs-top .cs-head{min-height:24px}.cs-append .cs-head .title,.cs-bottom .cs-head .title,.cs-top .cs-head .title{min-height:12px}p:empty+hr{display:none}hr+span.ebay{display:none}.dc_tracker_img{display:none}#ds_div>.dc_tracker_img:last-of-type{display:block} [data-lid="371237122618″] .cover:after{background-image:url(https://i.ebayimg.com/00/s/MTYwMFgxNjAw/z/h0oAAOSwOHpba7MH/$_2.JPG?set_id=880000500F)}[data-lid="371237122618″] .title:after{content:'High Back Ergonomic Mesh Office Chair Swivel Computer Seat PC Desk Chair Black'}[data-lid="371237122618″] .price:after{content:'$89.99′} [data-lid="372343129841″] .cover:after{background-image:url(https://i.ebayimg.com/00/s/MTYwMFgxNjAw/z/2rEAAOSwM9RbK8WM/$_2.JPG?set_id=880000500F)}[data-lid="372343129841″] .title:after{content:'High Back Gaming Chair Racing Computer Chair Recliner w/ Footrest'}[data-lid="372343129841″] .price:after{content:'$239.99′} [data-lid="391900839154″] .cover:after{background-image:url(https://i.ebayimg.com/00/s/MTUwMFgxNTAw/z/xx8AAOSwY7tafBFh/$_2.JPG?set_id=880000500F)}[data-lid="391900839154″] .title:after{content:'Race Car Style Gaming Office Chair Swivel Chair w/ Adjustable Armrest'}[data-lid="391900839154″] .price:after{content:'$114.99′} [data-lid="302139013138″] .cover:after{background-image:url(https://i.ebayimg.com/00/s/MTUwMFgxNTAw/z/ZvYAAOSwNgNbhFQ9/$_2.JPG?set_id=880000500F)}[data-lid="302139013138″] .title:after{content:'Race Car Style Ergonomic Gaming Office Chair High Back Computer Swivel Seat'}[data-lid="302139013138″] .price:after{content:'$189.99′} [data-lid="391173069618″] .cover:after{background-image:url(https://i.ebayimg.com/00/s/MTUwMFgxNTAw/z/d7EAAOSwrslabv1R/$_2.JPG?set_id=880000500F)}[data-lid="391173069618″] .title:after{content:'Heated Vibrating Massage Office Chair Recliner Swivel w/ Remote Control'}[data-lid="391173069618″] .price:after{content:'$179.99′} [data-lid="302110806021″] .cover:after{background-image:url(https://i.ebayimg.com/00/s/MTUwMFgxNTAw/z/jrsAAOSwmSZbPdrF/$_2.JPG?set_id=880000500F)}[data-lid="302110806021″] .title:after{content:'Adjustable Racing Gaming Chairs Ergonomic Faux Leather High Back Computer Chair'}[data-lid="302110806021″] .price:after{content:'$189.99′}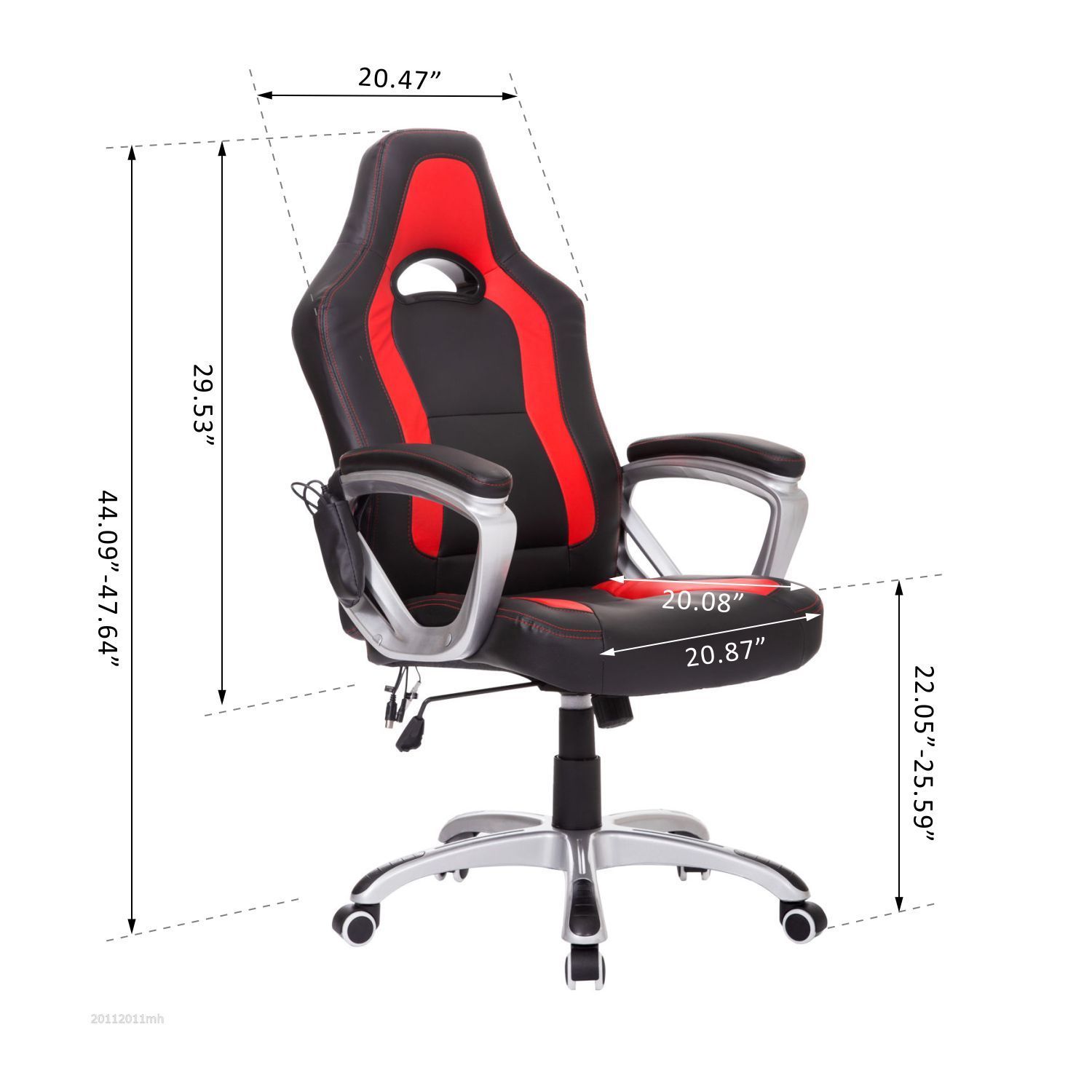 Race Car Styled Adjustable Swivel Heated Massage Office Chair Red
Mon. to Fri.: 9:00AM to 4:00PM
We do not ship to NT, NU, YT and US Territories: Puerto Rico, Hawaii, Alaska, Virgin Island, Guam, APO, FPO. US buyers are responsible for brokerage, custom and or duties charges.
Specification
● Colour: Black and Red
● Material: Faux Leather + PVC
● Overall Dimensions: 25.2″W x 26.8″D x 44.1″ – 47.6″H
● Weight Capacity: 330lbs
● Adjustable Seat Height: 22″ to 25.6″
● Seat Dimensions: 21″W x 20″D
● Seat Thickness: 3.5″
● Cushion Sponge Density : 25D
● Back Rest Dimensions: 20.47″W x 29.53″H
● Back Rest Thickness: 3.15″
● Back Rest Density: 20D
● Package Dimensions: 31.5″L x 12.6″W x 26.4″H
Features
Our HomCom Race Car Heated High Back Massage Chair is the perfect way to spoil yourself at home or the office. Six massage points with heating function allow you to pamper yourself while working at your desk by soothing your back, lumbar and shoulders as you sit. Tailored from top quality PU leather and padded with high density soft sponge which sets itself apart from others on the market, not to mention it looks awesome!
● Stylish race car styled chair suitable for home or office
● 6 Massage points (4 Back, 2 Cushion) with heating function
● Pocket for convenient remote control storage
● 360⁰ swivel varnished nylon base with 5 dual wheel casters
● Deep padding on seat &amp
back cushions for extra comfort
● High back for support and comfort
● Hydraulic: SGS and BIFMA certification
● Massager and Remote Control: UL certification
AOSOM Canada Inc. is dealing with Retails globally and we now invite you to take advantage of our unbelievable deals on popular products for Home and Business.
Here at AOSOM Canada Inc., our aim is to provide you with the best possible choice of high quality products with affordable prices. Our quality simply speaks for itself!
If you need any help or advice, please don't hesitate to contact one of our experienced and friendly advisor who will be more than happy to assist. You can contact us anytime our team will reply you within 24 hours in business time.
All AOSOM Canada products come exclusive from our carefully picked, quality assured partners with warranty. Our objective is to maintain high standard of quality and service to make your life better.
We accept payment by PayPal and accept all major credit cards such as Visa and Mastercard, AMEX, Discover, Diners Club, and also eCheck.
Please note that we may not save the stock for you if the payment doesnot go through in time.
Please make sure your shipping address in the PayPal is correct before you make the payment.
If you have any questions regarding payments, please be free to contact us.
Orders placed before 4:00 PM GMT Monday to Friday usually ship same day!
Both domestic orders and international orders ship via UPS, Canpar or Canada Post.
Shipping charges apply to USA and Canada.
We do not ship to P.O Box Addresses.
Tracking No. will be provided by Email.
US buyers are responsible for brokerage, custom and or duties charges.
We do not ship to Canada Territories: NT, NU, YT, and US Territories: Puerto Rico, Hawaii, Alaska, Virgin Island, Guam, APO, FPO.
For condo / appartment address, please provide Buzz code or Access Code.
For shipping charges other than USA and Canada, please contact us.
If your item arrives damaged due to mishandling by the shipping carrier, we'll do our best to replace it quickly and at no cost for you. For fastest service, please inform us the damage within 12 hours after the receipt of the product and include digital photographs if possible.
If your item arrives defective we may ask that you return it to us, but rest assured that we will cover all shipping costs and offer of replacement (if available) or a full refund.
If your item comes with a manufacturer warranty please follow the warranty process before contacting us. However, if you run into difficulty, please let us know. We want to make sure all problems are handled promptly and professionally by us.
Items returned within 14 days of receipt may be refunded less a 20% restocking fee. The customer is also responsible for the shipping costs (forward and return). Items must be returned in their original new & unopened condition. We do not accept any returns on used.
Most of our eBay items offer "free shipping". Please understand that we pay a very real cost to ship these items. Customers returns of items originally purchased with free shipping will be processed and refunded less a 20% restocking fee and shipping costs (forward and return).
Please let us know if you need more information about our products, services or if you have any comments. We will contact you as soon as possible with the requested information.
Please contact us through one of the methods below.
Toll Free:
Monday to Friday: 9:00AM to 4:00PM Saturdays: 9:00AM to 3:00PM Rest On Holidays & Sundays
Tel:
(416) 792 6088
Fax:
(416) 792 6090
Address:
1251 tapscott Road, Unit 101, Scarborough, ON, M1X 1S9
AOSOM Canada Inc. is dealing with Retails globally and we now invite you to take advantage of our unbelievable deals on popular products for Home and Business.

Here at AOSOM Canada Inc., our aim is to provide you with the best possible choice of high quality products with affordable prices. Our quality simply speaks for itself!

If you need any help or advice, please don't hesitate to contact one of our experienced and friendly advisor who will be more than happy to assist. You can contact us anytime our team will reply you within 24 hours in business time.

All AOSOM Canada products come exclusive from our carefully picked, quality assured partners with warranty. Our objective is to maintain high standard of quality and service to make your life better.

We accept payment by PayPal and accept all major credit cards such as Visa and Mastercard, AMEX, Discover, Diners Club, and also eCheck.

Please note that we may not save the stock for you if the payment doesnot go through in time.

Please make sure your shipping address in the PayPal is correct before you make the payment.

If you have any questions regarding payments, please be free to contact us.

Orders placed before 4:00 PM GMT Monday to Friday usually ship same day!

Both domestic orders and international orders ship via UPS, Canpar or Canada Post.

Shipping charges apply to USA and Canada.

We do not ship to P.O Box Addresses.

Tracking No. will be provided by Email.

US buyers are responsible for brokerage, custom and or duties charges.

We do not ship to Canada Territories: NT, NU, YT, and US Territories: Puerto Rico, Hawaii, Alaska, Virgin Island, Guam, APO, FPO.

For condo / appartment address, please provide Buzz code or Access Code.

For shipping charges other than USA and Canada, please contact us.

If your item arrives damaged due to mishandling by the shipping carrier, we'll do our best to replace it quickly and at no cost for you. For fastest service, please inform us the damage within 12 hours after the receipt of the product and include digital photographs if possible.

If your item arrives defective we may ask that you return it to us, but rest assured that we will cover all shipping costs and offer of replacement (if available) or a full refund.

If your item comes with a manufacturer warranty please follow the warranty process before contacting us. However, if you run into difficulty, please let us know. We want to make sure all problems are handled promptly and professionally by us.

Items returned within 14 days of receipt may be refunded less a 20% restocking fee. The customer is also responsible for the shipping costs (forward and return). Items must be returned in their original new & unopened condition. We do not accept any returns on used.

Most of our eBay items offer "free shipping". Please understand that we pay a very real cost to ship these items. Customers returns of items originally purchased with free shipping will be processed and refunded less a 20% restocking fee and shipping costs (forward and return).

Please let us know if you need more information about our products, services or if you have any comments. We will contact you as soon as possible with the requested information.

Please contact us through one of the methods below.

Toll Free:

Monday to Friday: 9:00AM to 4:00PM Saturdays: 9:00AM to 3:00PM Rest On Holidays & Sundays

Tel:

(416) 792 6088

Fax:

(416) 792 6090

Address:

Unit A, 5590 Finch Avenue East Scarborough / Toronto ON, M1B 1T1

.dc_tracker_img{display:none;}.dc_tracker_img:last-of-type{display:block;}p:empty+hr{display:none;}hr+span.ebay{display:none;}